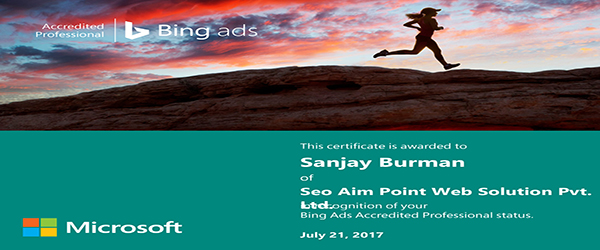 It is true that out of all search engines, Google is the sovereign, but if you talk about Bing Ads platform, it is now getting popularity and is one of the best marketing platforms available today. Clients who want to expand their reach and exposure in search are learning Bing Ads placement and strategies to show ads.
If you are opting to be a Bing Ads Certified professional, below advantages you may have -
Able to optimizing Ad Campaigns
Have increased proficiency in Bing Ads reporting and tools knowledge
Have Advanced Bing Ads knowledge
Have Membership benefits
Bing Ads Certified professional is simple and convenient. Anyone who knows SEO/ digital marketing can take the exam and can pass it. Just like Bing, passing it will help you in getting a good job. By learning innovative strategies, you can help clients enhance their online presence & open up new business avenues.
Here are some features of the exam -
Take the free courses at your own pace to prepare for the exam. Learn and master the basics of Bing Ads as well as advanced features.
You have unlimited time to finish the free Bing Ads accreditation exam, and can pause your exam-taking and resume when convenient.
Receive a score of 80% or higher and become a member for a full year.
Thoroughly Study the Materials:
Bing Ads offers a comprehensive study material (Bing Ads course) for students who wish to pass this exam.
You can read the full texts and every other minute details of the examination so that you can secure a good score in your exam.
Moreover, there are many training videos that will help you to understand the concepts in a better way.
Best of Luck!!!